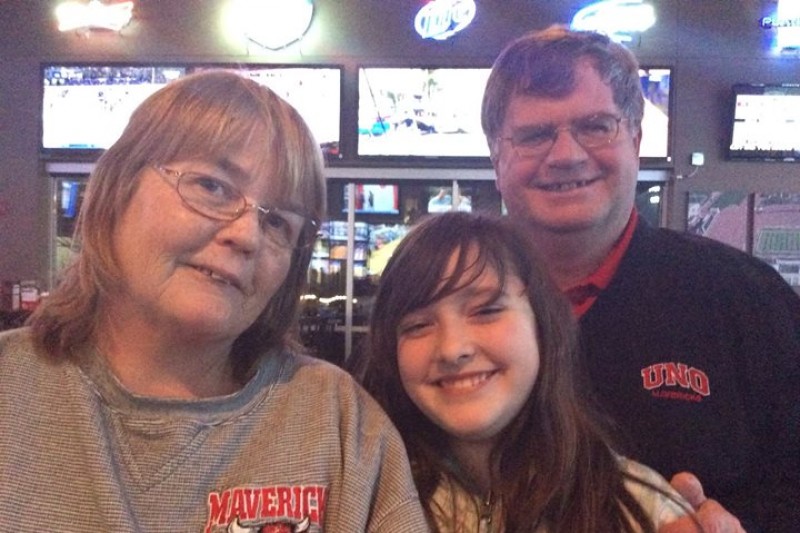 One of the most important members of the UNO hockey community didn't get to experience all of the excitement of UNO's historic run to the NCAA Frozen Four. Days after St. Cloud State knocked UNO out of the NCHC playoffs, Sheila Leahy, the wife of radio color commentator Terry Leahy, was diagnosed with cancer. And the news is sad and grim. UNO associate athletic director Mike Kemp sent the following message to ticket holders on Tuesday:
On March 16, Sheila Leahy was diagnosed with Stage 4 Single Cell Carcinoma. This is not curable and the doctors are currently working to keep her comfortable. Sheila is the wife of long-time UNO Hockey color commentator, Terry Leahy. For Maverick fans, Terry has been the man explaining the hockey games for us since the first Maverick Hockey game on October 17, 1997. We have relied on his insight and knowledge of the game for years.
Now Terry and his family are looking to us for support. To that end, the committee is holding a Fundraiser for Sheila at Holy Cross Catholic Church, 1502 South 48th St., this Friday, May 15, from 4 p.m. – 10 p.m. Terry's broadcast schedule at the radio station has been significantly reduced, and the medical bills are piling up. Support from friends is critical at this time. At Friday's event, there will be food, a silent auction, entertainment and dancing. Please make an effort to bring family and friends to Holy Cross to support this family which has been such a visible part of Maverick Athletics for so many years. If you can't attend the event, you can still support the family by donating to the "Go Fund Me" site that the committee has established for the Leahy Family. Just go to http://www.gofundme.com/skp47g to make your donation. Whatever you can donate will be appreciated. But most of all, keep Sheila, Terry and their family in your prayers. Thank you for your moral, emotional and financial support.
Sad, sad story. Please join me in making a contribution to the Leahy family in their time of need.