I must say that this week's Nebraska/USC game is the type of game that makes college football the great sport that it is. (It's also sad that these types of games are becoming increasingly rare, but that's a subject for another blog entry down the line.) Most of the analysis of these teams is based on one game (does anybody really want to put any weight behind the
Nicholls State game
?) and last season. Of course, both teams are different than last season, so that throws more wrinkles into the mix.
On paper, it seems both teams have somewhat similar strengths. On defense, both are strongest up front while the secondary is a concern, with both teams losing a key contributor to season-ending knee injuries (The Huskers' Zackary Bowman and USC's Josh Pinkard). On offense, both teams like to throw the ball around while breaking in new running backs.
But, who wins the matchups? That's a question nobody knows right now.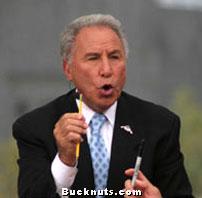 USC offense vs. NU defense: USC lost 2 Heisman winners, so they have to be down, right? As Lee Corso would say... not so fast! John David Booty had an impressive debut 2 weeks ago against an SEC team on the road, much like Matt Leinart did three years before. Dismiss Booty at your own peril.
Dwayne Jarrett
is an all-American, and
Steve Smith
would probably be as well if he didn't play last year in the shadow of Jarrett, Leinart, and Reggie Bush. Even at full health, this was going to be a tough matchup for the Blackshirts. With the concerns in the secondary, it becomes apparant that Nebraska needs to disrupt Booty before he has a chance to deliver the ball. The "bend and break" defense where Nebraska only rushes 3 or 4 guys is a sure-fire ticket behind the woodshed. Consistent pressure is going to be required. USC will know this, and will do their best to contain guys like Adam Carriker. So who will step up? I think a key name could be Steve Octavien, who is a playmaker. Unleash him and see if he can find some Booty.
Husker offense vs. Trojan Defense: Zac Taylor is completing 73% of his passes this season against very weak opposition. So let's cut back to the Alamo Bowl, where Michigoon pounded Taylor time and time again. Taylor's 14-for-31 may not look very impressive, but 0 interceptions and 3 touchdown passes sure does. What was the key in that game? Balancing the run and the pass. Cory Ross is in the NFL, much to the surprise of many recruitniks, so one of the 4 I-backs will need to step up. My pick against USC is Brandon Jackson. Jackson will play a key role in protecting Taylor from USC's front 7, which should mean plenty of playing time. He'll need to contribute both with his blocking as well as his rushing. I also look to see more from the Husker receivers. Maurice Purify will probably be featured, but I have this sneaking suspicion that Nate Swift is going to come up big on Saturday night. The late word today that all-conference center
Kurt Mann is hospitalized with an infection
is a major blow for the Big Red.
Special Teams: Nebraska had some special teams issues in the first two games, missing a long field goal attempt and having some very poor coverage on kickoffs. Nebraska can't afford to make mistakes here.
Coaching: Pete Carroll has coached 3 Heisman Trophy winners and has a national championship ring from 2004. (My vote in 2003 went to LSU.) Bill Callahan took a team to the Super Bowl in his first season, but then lost his next two teams. But the Huskers seemed to form a bond with Callahan before last year's Colorado game, and the team began to really click at that time. I'm really intrigued to see how the Huskers handle this test Saturday night.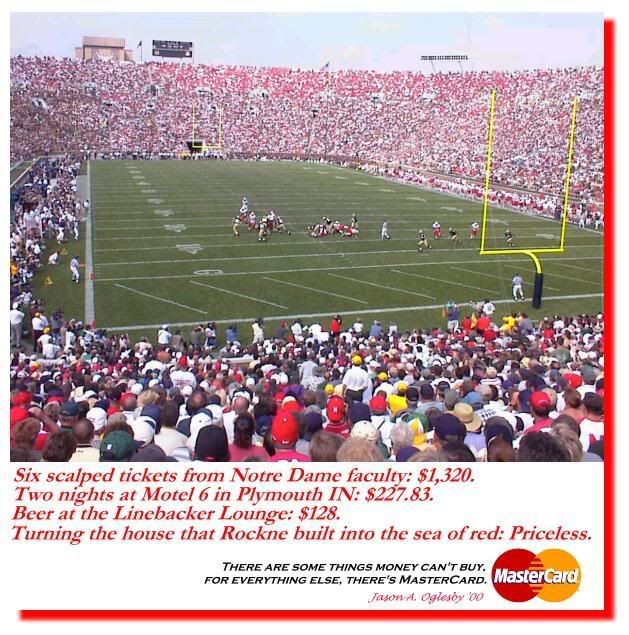 Fans: Perhaps the biggest question is how many Husker fans will show up in the Mausoleum. Some people predict a repeat of 2000's "Red Out" when the Huskers took over House that Knute Rockne built. Nebraska got 4,000 tickets, but 3,000 Nebraska fans bought single game tickets before USC stopped sales. Estimates range from 20,000 to 40,000, but ticket brokers report
strong business
for this game. Will USC fans jump off the bandwagon and sell their tickets to Husker fans?
Celebrities: Will Farrell vs. Larry the Cable Guy. Ugh. Kind of like having to choose between Lindsey Lohan and Fran Drescher for
best actress. Advantage: Everybody else.
Bottom Line: My logical side suggests that Husker fans have knocked the line down a little lower than it should be. But my instinct suggests that Nebraska turned a corner last November, and this game is going to be closer than the experts think. Which is right? Don't know. I still think Nebraska has a 20% of winning this game, and a much greater chance of making this a competitive game. There is still a cloud from the Kansas and Mizzou thumpings overhanging the program that could result in an epic trip behind the woodshed, though.