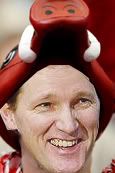 Hard not to post once again about Creighton after the bizarre turn of events, with
Dana Altman suddenly resigning from Arkansas to return to Creighton
. Many folks point to the bizarre, almost surreal "Wooooo! Pig Sooie!" chant that
Broyles sprung on Altman
as the turning point, but it that might be a little simplistic.
Anyway, most of the bandwagon BrieJay fans are suffering a little whiplash as they attempt to jump back on the Creighton bandwagon. Many of them are having to eat their words of disgust towards Altman, as they trashed their at-that-time-former coach. In that respect, they match
Steve Pederson supporters
in their extremist, polarizing philosophy that can be best summarized by the phrase "
You're either with us, or against us.
"
Will this have any long-term effect on Altman or Creighton? Hard to say. Rumors of job offers should diminish almost entirely now. But listening to Altman's press conference today, it really sounds like this episode has changed Altman. Perhaps it was only exhaustion. It makes me wonder whether it will change Altman as a coach. Only time will tell.
Meanwhile, Frank Broyles, who was already
taking a lot of heat for his coaching search
before this episode, is calling in
reinforcements
. Kind of reminds me of another coaching search 3 years ago, except that this time the plane from Nebraska didn't leave Fayetteville's tarmac empty. Broyles even taunted Steve Pederson's search at the time, suggesting that he would hire a replacement in a few days.
Now that Broyles has worked through his "A" list (and likely his "B" list as well) of candidates, who is next up? Will
Doc Sadler get a call next
? Or has Broyles had
enough
of candidates from Nebraska?