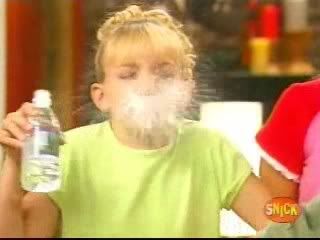 It's increasingly looking like last Saturday night's 41-6 beatdown by Missouri was the last straw for most Husker fans. Pessimism and dissatisfaction seems to be the order of the day throughout HuskerNation. Even the most pro-Pederson/Callahan sites seem to be resigned to the idea that there are major problems with Husker football. Only the normally clear-headed
BigRedNetwork.com
folks still seem to
like the Huskers chances
for the rest of the season. Mathematically, they are correct. Nebraska could win the rest of their games and resurrect their season. However, that perspective really only applies if you look at the conference standings. It certainly denies the problems that we've seen the last five weeks.
Last year, AJ the HuskerH8er asked twice if that week's game was a "
must win
". I said no both times. I now think the next two games are "must wins"... mostly because if they don't win those games, they must find a way to win three of the final four games to become bowl eligible (@ Texas, @ Kansas, Kansas State, and @ Colorado). Failure to make a bowl game this season should pretty much guarantee pink slips for all, and even making a bowl game won't ensure job security.
My co-worker HuskerDave took issue with my resurrecting the "
Fire Steve Pederson
" cry, saying that Tom Osborne once said that teams couldn't keep firing people after four years. The difference is that Osborne was talking about coaches, not administrators. Not to mention that Pederson has been athletic director for five years. In any event, I'm not calling for Bill Callahan to be fired yet. (He certainly doesn't deserve the extension he got a month ago...) The sooner Pederson is gone, the sooner the next athletic director can evaluate Callahan and his program. Not to mention, the sooner Husker Nation can fully reunite. The longer Pederson remains, it becomes more likely the entire group (coaches and administrators alike) will be purged if this team doesn't pull out of it's tailspin fairly quickly.
Pederson continues to
believe in this staff
, for what it's worth. Last night on his so-called "call-in" show (where they haven't taken phone calls in 4 years), he said that he has faith in his decisions from years ago. Denial? Not really. Deep down, Pederson knows that his job depends on the success of the football program. It's too late for apologies, too late to
ask for forgiveness
. He knows that if this team continues to tank, he's history. So he has no choice but to stand tall and support the coaching staff he brought to Lincoln, even if his words ring hollow (hypocrite?) in light of his actions in 2003.
The heat on Kevin Cosgrove continues to intensify with a few
scud missiles fired at him from Columbia, Missouri today
:
Missouri offensive coordinator Dave Christensen:
"I was a little bit surprised that they went just about the entire game getting pressure on us with a three-man rush. Obviously, it didn't work very well. I don't foresee Oklahoma doing that or at least making a living doing that."
Tiger quarterback Chase Daniel went even further:
"They're very stubborn. Cosgrove's a very stubborn guy. It's always been that way. … That's just how he is, that's how they are. They're a bunch of confident guys in what they do, and they felt they had the best chance doing that, so they stuck with it.

"You can't just play one defense the whole entire game. That's like high school stuff that I faced in high school, so it's nothing new for me."
Oh, by the way, does everybody remember that
Oklahoma State also runs a spread offense
, as do many of the remaining teams on Nebraska's schedule. That's another reason why many Husker fans are skeptical that this five game slide is going to reverse itself anytime soon. The so-called "easy wins" (Iowa State and Ball State) are already collected, and now it's time to face the music.